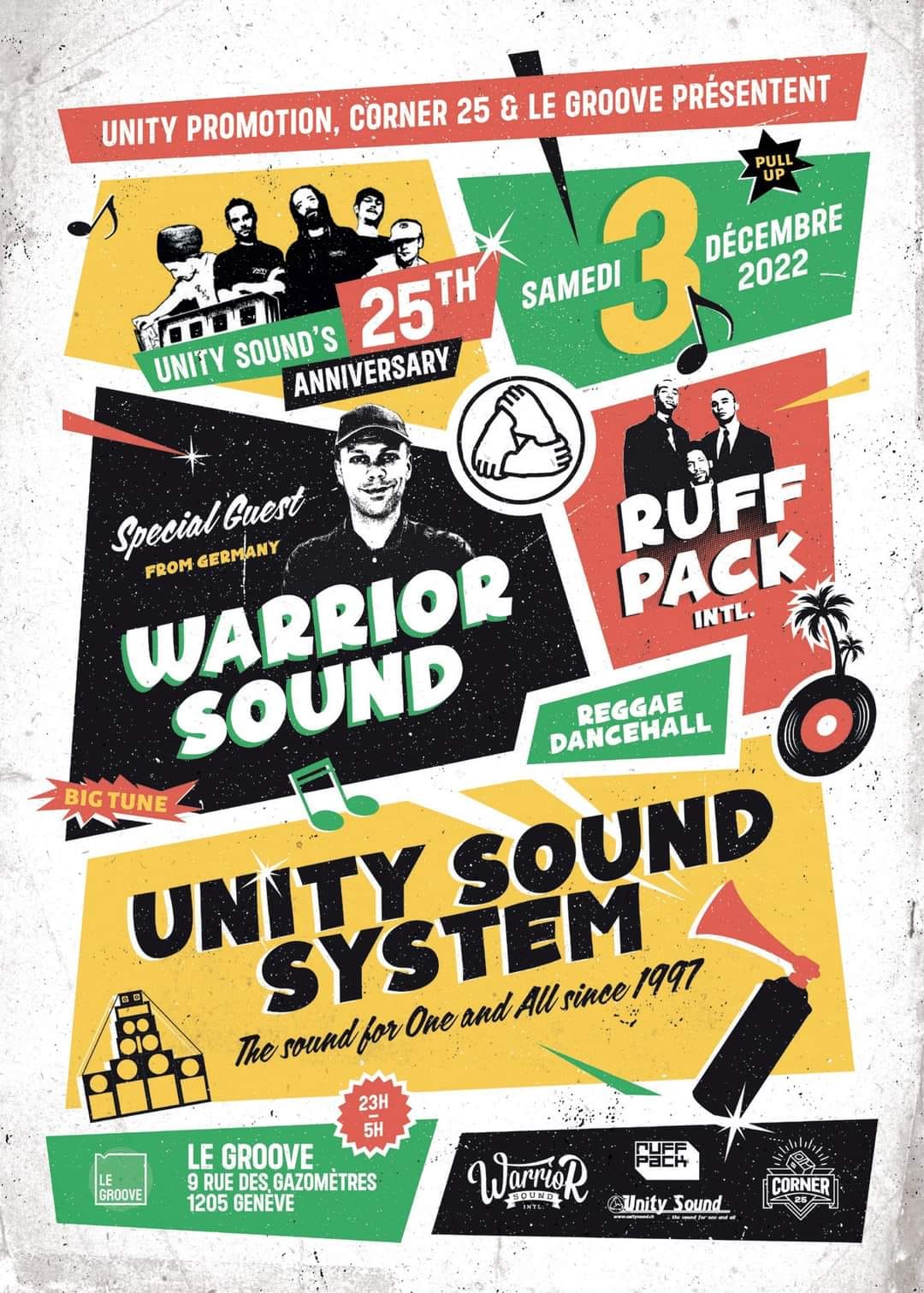 UNITY SOUND'S 25th ANNIVERSARY
03
décembre
2022
(11:00 )
-
04
décembre
2022
(11:00 )
Unity promotion, Corner 25 et Le Groove present :
𝗦𝗔𝗠𝗘𝗗𝗜 𝟯 𝗗𝗘́𝗖𝗘𝗠𝗕𝗥𝗘 𝟮𝟬𝟮𝟮
***** 𝗨𝗡𝗜𝗧𝗬 𝗦𝗢𝗨𝗡𝗗'𝗦 𝟮𝟱𝘁𝗵 𝗔𝗡𝗡𝗜𝗩𝗘𝗥𝗦𝗔𝗥𝗬 *****
On December 3, 1997 Axel, Jay and Kanti united for the first time here in artamis, to created Unity Sound, and since then have continued to spread love and unity through their reggae sound system.
Massive and crew welcome at le Groove Geneva to celebrate the 25 years of "The sound for one and all" 
They will help us celebrate it properly:
Warrior Sound International With Mattia the 1 Man Army
RuffPack International With Rafu & Mr Washington
Unity Sound system With Pupa Kanti Jay Selecta & crew
11pm – 05 am
Le Groove Geneva
9 Rue des gazomètres 1205 Genève Switzerland
Adm : 15chf
***********************************
𝗨𝗻𝗶𝘁𝘆 𝗦𝗼𝘂𝗻𝗱 𝗦𝘆𝘀𝘁𝗲𝗺 (𝗚𝗲𝗻𝗲𝘃𝗮 𝗦𝘄𝗶𝘁𝘇𝗲𝗿𝗹𝗮𝗻𝗱)
Active for 25 years Unity Sound spreads and shares its passion for Reggae and Jamaican music. Based in Geneva, Unity Sound cut its teeth in squats like the Roots Station, the Goulet or Artamis. There followed a residency at the Usine and memorable evenings with Pow Pow, Sentinel, Supersonic, Caveman, Ruffpack, Cali P, Straight Sound and so many others. From 2006 Unity installed its speakers at Corner 25 and shared its evenings with artists such as Glen Washington, Protoje, Pressure, Cornell Campbell or Johnny Osbourne and most of the region's reggae dancehall activists. Today the sound is resident and co-manager of Corner 25 / Le Groove.
Inspired by their travels in Jamaica and by sounds like Stone Love or Killamanjaro, Unity has, over time, built its own speakers and equipped itself with amps, preamps and dubplates (exclusive tracks). Passionate collectors, Unity's musical selection ranges from the golden age of Jamaican music, to the latest reggae dancehall releases fresh from Kingston studios.
In the evening, the bass rumbles, the selections goes on and the message of peace and unity resounds.
𝗪𝗮𝗿𝗿𝗶𝗼𝗿 𝗦𝗼𝘂𝗻𝗱 𝗜𝗻𝘁𝗲𝗿𝗻𝗮𝘁𝗶𝗼𝗻𝗮𝗹 𝗪𝗶𝘁𝗵 𝗠𝗮𝘁𝘁𝗶𝗮 𝘁𝗵𝗲 𝟭 𝗠𝗮𝗻 𝗔𝗿𝗺𝘆 𝗳𝗿𝗼𝗺 𝗚𝗲𝗿𝗺𝗮𝗻𝘆
Mattia started to fall in love with Jamaican Music in the 90s due to the influence by his father. In the early 2000`s Mattia started to play music with some friends in Wuppertal, Germany and the surroundings. The dream to play a « Jamaican Style Soundsystem » manifested and Mattias life was all of a sudden dedicated to his dream.
The U-Club in Wuppertal, one of Europes biggest spots for Reggae & Dancehall Music gave Mattia a home for his monthly dance which is still running after all this years and is worldwide known as the « Jamaican Rum Nigh ». To be the resident in such a legendary spot helped to push Warrior Sounds career and bookings all over Germany followed.
Watching VHS Tapes of the greatest soundsystems clashing each other in Jamaica Mattia decided to step into the clash arena and be part of this very special part of the Jamaican Muisc Culture. Since today Warrior Sound build a worldwide known Dubplate Collection and played as well as won some of the biggest clashes on this planet.
In 2019 Warrior Sound won the Reggae Sumfest Clash in jamaica and the Clash at Sea at Damian Marleys Welcome to Jamrock Cruise. 2 Appearances at the Worldclash , 2 Titles at the War Ina Easr and a clash win against Bass Odyssey in Germany speak for itself.
Then the pandemic did hit the world and Warrior Sound created a daily livestream called « The Shutdown Show » Reggae Fans from all over the world tuned into the Stream and it helped alot of people to get through the dark times this planet had.
But this was not enough: Warrior Sound founded the « Warrior Sound Music » Label in 2021 and Mattia started to release and produce music with some of Reggae greatest Artist. Sizzla, Fantan Mojah, Perfect, Suku, Million Stylez, Noah Powa, Nature Ellis, Dre Island just to name a few.
Warrior Sound is actually one of Europes most booked and wanted sounds. Stay in touch to see the upcoming Tour Dates and make sure to witness one of his shows to see the vibes live and direct
Instagram: 
www.instagram.com/warriorsound
Twitch: 
www.twitch.tv/warriorsoundint
Website: 
www.warriorsound.de
𝗥𝘂𝗳𝗳𝗣𝗮𝗰𝗸 𝘀𝗼𝘂𝗻𝗱 𝗜𝗻𝘁𝗲𝗿𝗻𝗮𝘁𝗶𝗼𝗻𝗮𝗹 (𝗕𝗶𝗲𝗹. / 𝗦𝘄𝗶𝘁𝘇𝗲𝗿𝗹𝗮𝗻𝗱)
Mr. Washington is from Costa Rica. His grandparents emigrated in early times from Jamaica to Limón, Costa Rica also called "little Kingston". Grown up in the capital he was influenced since ever by his father, a big reggae fanatic. In 2000 he met Rafu, who was visiting the beautiful country.
Rafu tha Skilla comes from Biel, Switzerland. In no other area of Switzerland hip hop and reggae is more listened then there. Early he started to select hip hop and reggae music with his friends. That is how reggae music have become the most important thing in his life.
Gold T is the next international member of ruffPack. He comes from Santiago, Cuba. His father was already a Reggae DJ when Fidel Castro still forbade this kind of music. As his father he started to select reggae music as a teenager. He got known in Cuba as one of the few reggae selectors the island has, before he came to Switzerland.
In 2002 all of them met in Switzerland and decided to create a real Reggae/DancehallSound. In only three years they could celebrate several success so that the name "ruffPack International" is well known – and not only in Switzerland. 2004 they won the first « SWISS DANCEHALL CLASH »
From that time they never stop to promote reggae dancehall movement with regular juggling dance and promoting the famous 1-2-3 Badadan soundclash
This year in 2022 they celebrate 20 years of RuffPack
***********************************
𝘓𝘦 𝘎𝘳𝘰𝘰𝘷𝘦 𝘴𝘰𝘶𝘩𝘢𝘪𝘵𝘦 𝘦̂𝘵𝘳𝘦 𝘶𝘯 𝘦𝘯𝘥𝘳𝘰𝘪𝘵 𝘴𝘢𝘧𝘦 𝘦𝘵 𝘪𝘯𝘤𝘭𝘶𝘴𝘪𝘧. 𝘈𝘶𝘤𝘶𝘯𝘦 𝘧𝘰𝘳𝘮𝘦 𝘥𝘦 𝘥𝘪𝘴𝘤𝘳𝘪𝘮𝘪𝘯𝘢𝘵𝘪𝘰𝘯 𝘰𝘶 𝘥𝘦 𝘷𝘪𝘰𝘭𝘦𝘯𝘤𝘦 𝘯'𝘦𝘴𝘵 𝘵𝘰𝘭𝘦́𝘳𝘦́𝘦. 𝘕𝘰𝘴 𝘦́𝘲𝘶𝘪𝘱𝘦𝘴 𝘴𝘰𝘯𝘵 𝘴𝘦𝘯𝘴𝘪𝘣𝘪𝘭𝘪𝘴𝘦́𝘦𝘴 𝘢̀ 𝘤𝘦𝘴 𝘦𝘯𝘫𝘦𝘶𝘹, 𝘯'𝘩𝘦́𝘴𝘪𝘵𝘦 𝘱𝘢𝘴 𝘢̀ 𝘵𝘦 𝘵𝘰𝘶𝘳𝘯𝘦𝘳 𝘷𝘦𝘳𝘴 𝘦𝘭𝘭𝘦𝘶𝘹 𝘦𝘯 𝘤𝘢𝘴 𝘥𝘦 𝘣𝘦𝘴𝘰𝘪𝘯.